Sales - Money
9 Holiday expenses that are easy to forget
Plan ahead for these costs so the holidays do not drive you into debt.
Updated:
Monday, December 12th 2016, 9:00 am EST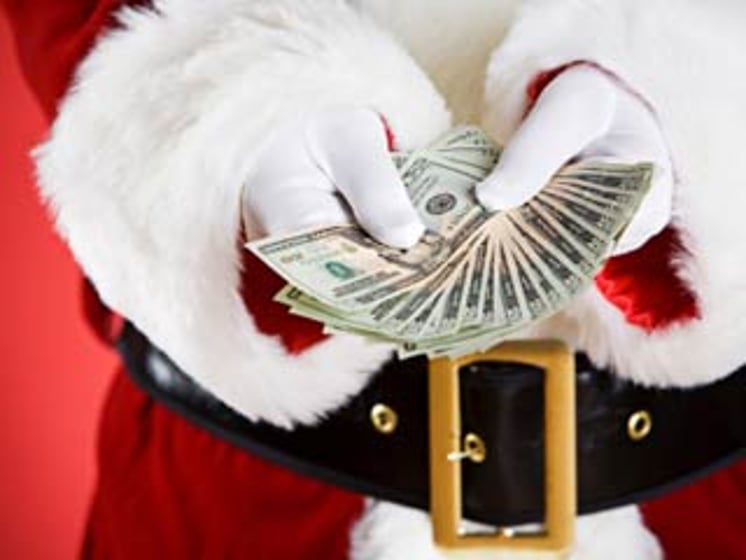 The holidays are just around the corner. Hopefully, you are shopping carefully, with a sensible budget in mind. It is easy to overlook some costs when developing your budget, though. Now is the time to check your list twice to make sure you have planned for these easy-to-forget holiday expenses.
Each person to whom you plan to give a gift. This point sounds basic, but you could forget Aunt Beth, cousin Joe's new girlfriend or the next-door neighbor, especially if you did not start your holiday planning early. Look at your contact list and your calendar, and take a mental walk through your holiday events as you review your giftee list. Then be sure all of your recipients fit into your holiday budget.
 
Holiday greetings. People who send online cards sometimes forget that increasingly, online websites charge fees to send cards. Tempting options, such as apps that turn smartphone photos into postcards, can really add up. Consider emailing most of your holiday list a homemade greeting, and saving paid cards for your closest contacts.
 
Shipping costs. Shipping even a small package can cost close to $10. If you are mailing cards or gifts to people overseas, the rates are even higher. This year, the U.S. Postal Service recommends sending packages via ground mail no later than Dec. 15. If you ship later than that, you will pay more for faster service.
 
Decorations and gift wrap. If your tried-and-true rolls of wrapping paper are dwindling, you may need to spruce up your gift-wrap supplies. And even if you do not plan to redecorate, a new ornament, wreath or menorah might catch your eye. Plan ahead so that you know if you can afford to upgrade – or if you need to resist temptation.
 
Costs related to meals. Whether you dine in or out, many people splurge on meals during the holidays. When planning your holiday budget, remember to include the cost of special meats and desserts, as well as extra purchases of spices, oils and drinks. Especially at restaurants, you can save money by avoiding alcoholic beverages. If you do intend to treat yourself, be honest about it in your budget.
 
Holiday apparel. The holidays often present the need (or desire) for new clothing or shoes for some family member. Factor in the cost of clothing required for holiday music events or shows, dance recitals, weddings, or just outgrown shoes. Remember, too, that you might want to take advantage of holiday sales to update items such as winter coats. Even if you are hoping to find bargains, plan for the expense through your budget.
 
Child care or elder care. Many parties are family-friendly, but office gatherings and New Year's Eve festivities may be adults-only. If you are going out and need a sitter, remember to plan for the cost. If a preschool or daycare facility will close over the holidays, your family might need to account for extra babysitting time and expense. Others are responsible for caring for an aging or ill family member. Think about whether you will need to budget for extra help.
 
Year-end tips. End-of-year gifts for the people who make your life easier need to both fit within your budget and express your appreciation. People to tip may include newspaper carriers, babysitters, dog walkers, housecleaners, doormen and hairdressers. Some people give to teachers, doctors and other health care providers as well, although some of these individuals – along with mail carriers – are not allowed to accept cash gifts. Always keep in mind that the main point is to express your appreciation. If a small token works better for your budget, offer that, with a heartfelt card thanking the person for his or her hard work.
 
Travel costs. If you are flying for the holidays, remember that you will encounter costs beyond the cost of your ticket. You may have cab, bus or train expenses to get to and from the airport. You also may tip porters, shuttle drivers, curbside check-in personnel and hotel housekeeping staff. Plan for any purchases at the airport and on board the plane. Even if you are traveling locally, consider any additional expenses.  
It is very easy to overspend during the holidays, but with good planning, you can keep your budget in check. Make it your goal to go easy on the credit card so you do not go into debt this month. Doing so might take some extra effort, but your reward will be a truly peaceful holiday season – at least when it comes to your bank account.

Andrew Housser is a co-founder and CEO of Bills.com, a free one-stop online portal where consumers can educate themselves about personal finance issues and compare financial products and services. He also is co-CEO of Freedom Financial Network, LLC providing comprehensive consumer credit advocacy and debt relief services. Housser holds a Master of Business Administration degree from Stanford University and Bachelor of Arts degree from Dartmouth College.