Entertainment
Daniel Craig will reportedly return for another James Bond movie
The search for a new James Bond actor is always big news, but Daniel Craig might put it off by returning to the iconic role.
Updated:
Tuesday, July 11th 2017, 9:40 am EDT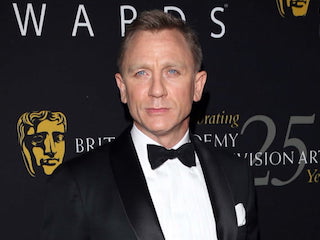 In October 2015, James Bond actor Daniel Craig said he would rather "slash his wrists" than play secret agent 007 again, but he apparently had a change of heart. A report indicates that Craig will return for another Bond movie.
The actor who starred in the last five James Bond movies is said to have changed his mind after seeing the list of British actors being eyed to replace him in the historic film franchise.
According to The Mirror, Craig will reprise the role of James Bond for the next installment of the series and he will be joined by singer Adele, who won an Academy Award in 2012 for her theme song to Skyfall, Craig's third film as James Bond. The outlet reports that Craig's return is all but assured at this point, while Adele's participation is slightly less certain, but franchise producer Barbara Broccoli is "determined" to bring the singer back.
Prior to Craig's rumored turnabout on returning as 007, reports indicated that the list of actors under consideration to become the next James Bond included The Wire and Luther star Idris Elba, Mad Max: Fury Road and Peaky Blinders actor Tom Hardy, Happy Valley actor James Norton, and The Hobbit series and Poldark actor Aidan Turner.
Of the 25 films in the James Bond franchise, the most recent two — 2015's Spectreand 2012's Skyfall — were the highest-grossing installments, with Skyfall the biggest hit thanks to its $304.3 million in U.S. theaters and $1.1 billion worldwide.
As for who else might be behind the camera, The Dark Knight franchise director Christopher Nolan recently expressed interest in taking on a James Bond movie, and has long been rumored as a director the producers are interested in bringing on board. Whoever does direct the next film will replace Sam Mendes, the director of the last two films who has set a high bar for future Bond filmmakers.
The report regarding Craig's return also indicates that Skyfall and Spectre screenwriter John Logan will also pen the script for the next film in the series but nothing is official at this point regarding the much-anticipated project.