Entertainment
Stephen King's 'It' shatters horror movie ticket presale record
By Provided by This article was originally posted on Digital Trends Content provided by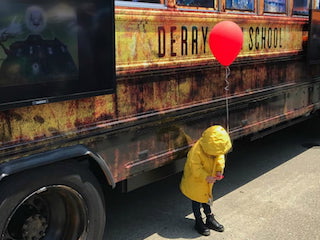 It is floating to the top of the box office. With its opening mere days away, the film adaptation of Stephen King's classic horror novel has put up very strong ticket presale numbers. In fact, Fandango has revealed that the It movie's advanced sales are the best ever among horror flicks, according to Variety.
The online movie ticket seller did not specify how many tickets It sold so far, but the number was enough for it to unseat 2011's Paranormal Activity 3, the previous record holder. It's sales have put the Andres Muschietti-directed scary movie on track to reach $60 million at the box office during its upcoming opening weekend. Accomplishing that feat would set yet another record for It: The movie would easily top Hotel Transylvania 2 to have the biggest September debut ever. (Hotel Transylvania 2 brought in roughly $48.46 million when it opened on September 25, 2015.)
News of It's impressive numbers comes on the heels of the worst Labor Day weekend box office in 17 years, according to Box Office Mojo. The top 12 films this year made only $51.5 million combined — less than what It alone is projected to make during its opening. Therefore, the horror flick will provide a much-needed box office boost when it debuts in 4,000 theaters on Friday.
The appeal of It is widespread. People still seem to find the story as intriguing as ever, especially fans of the 1990 TV miniseries starring Tim Curry. A Fandango survey of 1,000 people found that 73 percent of It's ticket buyers watched the TV adaptation. Now, they will yet again get to see small-town Maine children fight back against a dark, shape-shifting force that preys on their worst fears.
With the numbers being as solid as they are, the decision to break the story into two parts looks especially wise. Warner Bros. is expected to release two films, as the book follows the group in both childhood and adulthood. The first film, which stars Bill Skarsgard and Jaeden Lieberher, focuses on their younger years. The prospective sequel is intended to pick up their story decades later.
In the meantime, It hits theaters on Friday.