Entertainment
'Star Wars Episode IX' gets J.J. Abrams and a new release date
Everyone's been wondering who will direct Star Wars: Episode IX, and now the studio has made its decision.
Updated:
Wednesday, September 13th 2017, 8:26 am EDT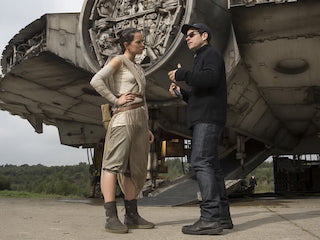 It didn't take long for Disney and Lucasfilm to find a new director for Star Wars: Episode IX — and he's a familiar face to fans of the franchise.
Star Wars: Episode VII – The Force Awakens director J.J. Abrams will direct Episode IX, as well as co-write the script with Academy Award winner Chris Terrio (Argo, Justice League). Abrams replaces former director Colin Trevorrow, who exited the project in early September 2017 due to creative differences with the studio.
In the wake of the news, Lucasfilm announced that Episode IX will have its release date pushed back to December 20, 2019 — it was originally scheduled for a May 24, 2019, premiere. The new release date has the film arriving in theaters just a week after the sequel to Wonder Woman, and on the same weekend as a live-action feature based on the popular Broadway musical Wicked. It also allows the film to carry on the tradition set by the two serialized installments of the Star Wars franchise that immediately precede it, Star Wars: Episode VII – The Force Awakens and Star Wars: Episode VIII — The Last Jedi, which were both assigned December premieres.
"With The Force Awakens, J.J. delivered everything we could have possibly hoped for, and I am so excited that he is coming back to close out this trilogy," said Lucasfilm President Kathleen Kennedy in a statement accompanying the announcement on StarWars.com.
Little is known about the plot of Episode IX at this early stage, as The Last Jedi is scheduled to hit theaters December 15 and will set up the events of Episode IX. In the studio's official statement regarding Abrams' hiring as director, Episode IX was referred to as "the concluding chapter in the sequel trilogy."
Given the success of Abrams' franchise-relaunching sequel The Force Awakens, the decision to bring him back for Episode IX seems like a safe bet for the studio.
Released in 2015, The Force Awakens went on to break a slew of box office records, earning $936.6 million in U.S. theaters and more than $2 billion worldwide. It's currently the highest-grossing movie of all time domestically, and in third place on the all-time worldwide box office charts (after Avatar and Titanic). The film also received overwhelmingly positive reviews from professional critics and fans alike, and currently ranks third (after Star Wars: Episode V — The Empire Strike Back and the franchise-starting Star Wars: Episode IV — A New Hope) and among the best-reviewed films in the franchise on review aggregator site Rotten Tomatoes.
While it's unknown which established Star Wars characters will appear in Episode IX, their stories will continue in this year's The Last Jedi, which was written and directed by Brick and Looper filmmaker Rian Johnson. Confirmed to appear in that film are returning cast members Mark Hamill as Luke Skywalker, recently deceased actress Carrie Fisher as General Leia Organa, Adam Driver as Kylo Ren, Daisy Ridley as Rey, John Boyega as Finn, Lupita Nyong'o as Maz Kanata, Oscar Isaac as Poe Dameron, Domhnall Gleeson as Hux, Anthony Daniels as C-3PO, and Gwendoline Christie as Captain Phasma. Andy Serkis will also return via performance-capture as Supreme Leader Snoke.
New cast members in The Last Jedi include Benicio Del Toro, Laura Dern, and Kelly Marie Tran.Update: We added the new release date for Star Wars: Episode IX.