Entertainment
Amazon has two new Fire TV devices on the way, with Alexa inside
Amazon's Fire TV devices are among the most popular pieces of streaming video gear on the market, and the mid and high-tier models are about to see a major update.
Updated:
Friday, September 15th 2017, 8:20 am EDT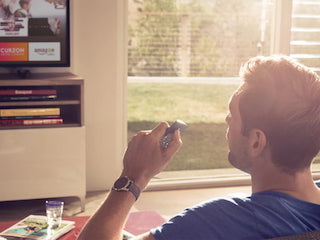 While the tech community buzzes about the new 4K Apple TV expected to be released tomorrow (9/12/17), leaks of two new Amazon Fire TV streaming devices have surfaced. According to AFTVnews, both will support 4K video at 60fps, and sport all-new form factors. The two models will occupy the mid and high tier of Amazon's Fire TV price range.
The most affordable of the new models will be a square, Chromecast-like dongle that connects to a TV with a fixed HDMI cable. In terms of market, the dongle will be aimed at those who want an Ultra HD and High Dynamic Range-capable upgrade from the affordable Fire TV Stick. The new mid-range model will feature a 1.5 GHz quad-core CPU and a Mali-450 GPU, and offer 2 GB of RAM, as well as 8 GB of internal storage — better specs than the current Fire TV Stick, but still considerably less powerful than the latest Fire TV box.
Amazon's new flagship option will come in the form of an Alexa-integrated cube with familiar volume, mute, and action buttons on top, and will replace the current second-generation Fire TV box. The device appears as though it will function like a set-top Echo device, with far field microphones and the same blue LED lighting seen around the top of other Amazon Alexa models. The new Fire TV cube will integrate more easily into larger home theater setups thanks to a built-in infrared emitter for controlling other gear, and will likely feature additional ports — like a built-in Ethernet port — that aren't on lower-tier Amazon Fire TV models.
Just like we've seen on previous Amazon Fire TV products, both new devices will be able to turn on and control any TV that supports the current HDMI-CEC standard. That said, the high-end model's far-field microphones and built-in IR emitter means that the entire media center of one's home may soon be controllable via simple Alexa commands — an enticing thought, to say the least.
Fans of Fire TV who have been waiting for an upgrade will probably not need to wait long; The current flagship Fire TV box, which supports 4K and HDR, is out of stock on the Amazon website, a fact that points to a near-term release from the tech giant.
Just like a firm release date, pricing has yet to be officially announced for either model, but estimates place the new mid-tier dongle at somewhere between $60 and $80, and the high-end cube at just over $100.
We will update this article as we get more information about the two devices.